Endless Encounters Guideline
In the vast universe, endless encounters unfold every day. After traversing through countless chances and missed connections, it's truly wonderful to have met Nikki.
If you're here, it means you're ready to express your feelings with your paintbrush, right? So, let's begin! Please create an anniversary celebration artwork for our beloved SHINING NIKKI, with the theme "Endless Encounters."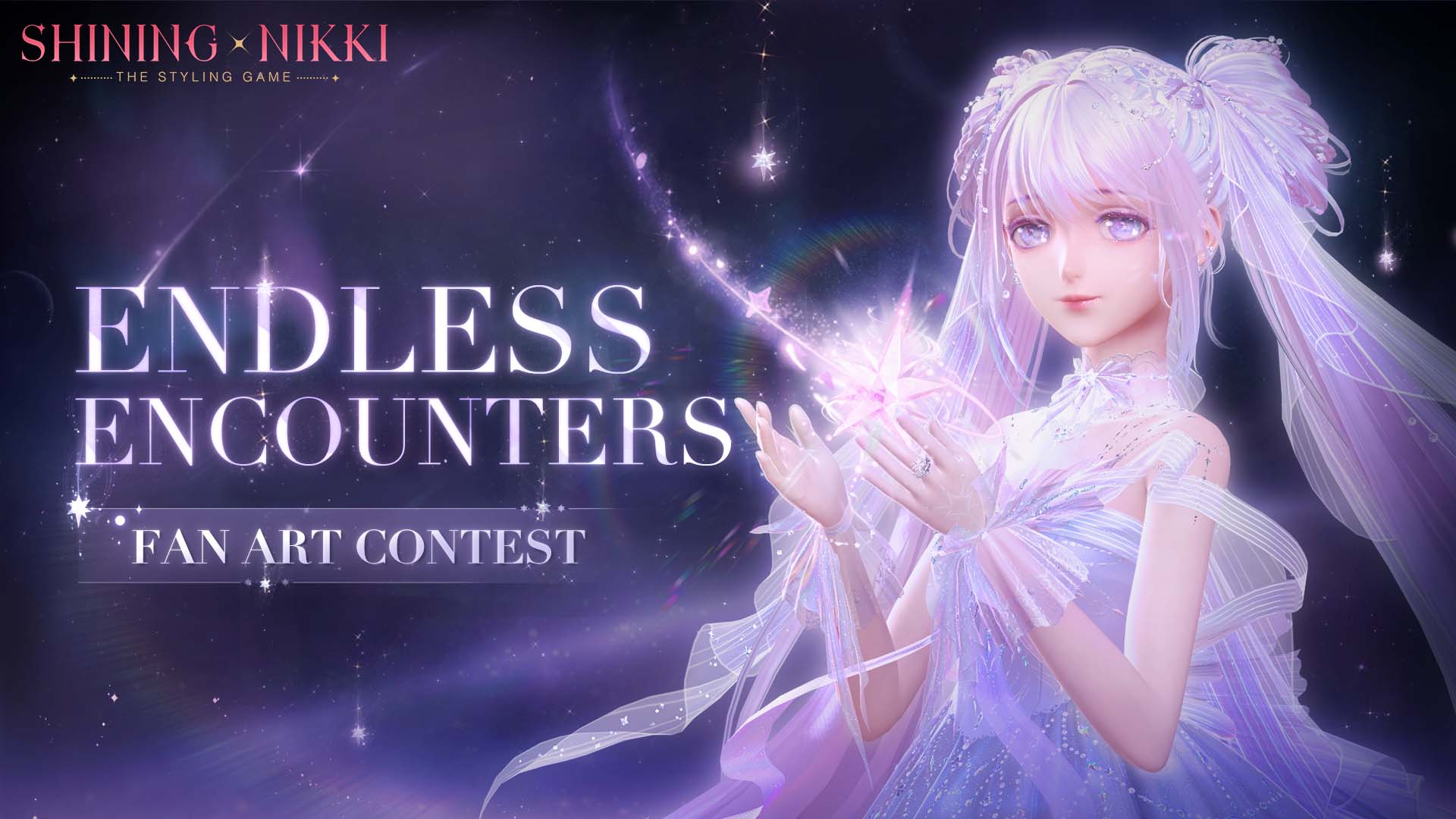 Event Timeline
Submission: June 28th, 2023 – July 10th, 2023 (UTC-7)
Result Announcement: July 12th
Reward Distribution: The rewards will be sent via in-game mail within 7 working days after the announcement of the results.
Submission Guidelines
1. During the event, use the hashtags #EndlessEncounters and #ShiningNikki2Years when posting your original fan art on Twitter or Facebook. (*Stylists participating in the event are required to make their tweets or posts public)
2. Click on the link below to fill out your entry information.
Google Form Link for Collecting Information: https://forms.gle/GmfMmtXkoAAEf1g17
* If clicking on the link doesn't redirect you properly, please try copying the link and opening it in your web browser.
* Please note that you will be required to submit a documentation of your drawing process in the form to verify the originality of your artwork.
3. This contest is separate from "BONDLESS REUNION" Picture Editing Contest. You may participate in both events and win them both.
4. Outstanding artworks from this competition will be showcased on the official social media platforms on the day of the winners' announcement.
Submission Requirements
1. The "Endless Encounters" Event is a drawing contest. We will only accept pictures as entries.
2. Though the method of drawing is not limited, please do submit COMPLETE and COLORED works instead of drafts.
3. Your entry should be related to Shining Nikki only.
4. Please ensure that the Facebook/Twitter links you submit in the entry form REMAIN PUBLIC throughout the duration of the competition.
Prizes
Gold Prize (1 winners): 3000 pink gems
Silver Prize (2 winners): 2000 pink gems
Bronze Prize (3 winners): 1000 pink gems
Popularity Prize(5 winners): 500 pink gems
Evaluation Method: The winners of the gold, silver, and bronze prizes will be determined by the staff. The Popularity Prize will be given to the artwork that has gained exceptional popularity on Twitter or Facebook, taking into account factors such as likes, comments, and shares. The Popularity Prize is independent of the other awards and does not exclude them.
Important Notice
1. Originality: We highly encourage participants to create only original artwork. Copying or plagiarizing from others is strictly prohibited.
2. Content Guidelines: It is important to ensure that your submitted work does not include anything inappropriate or offensive. This includes, but is not limited to, content that is anti-social, political, violent, or pornographic.
3. Exclusive Submission: Please submit your work in its initial release. Do not submit content that has already been published on other platforms.
4. Interpretation Rights: Kindly note that Papergames reserves the right of final interpretation for all content submissions. This ensures fair evaluation and adherence to the guidelines.
Please contact the e-mail below if you have any further questions regarding this Fan Art Contest:
snfanart@playpapergames.com