Promise to You Fan Art Contest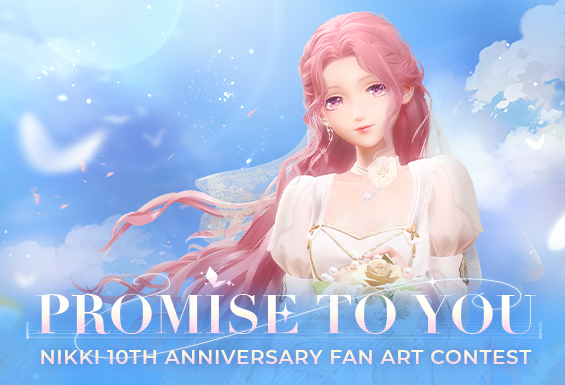 Whether bitter, sour, or sweet, our memories have become a treasure and a promise to our future.
Grab your brushes to share your precious memories during your journey in Miraland to celebrate Nikki 10th anniversary with global fans!
Characters of your artwork can be chosen from Nikki Series and feel free to choose your theme as long as it is connected with our anniversary or Promise to You.
Event Timeline
Submission: 2022/11/11 – 12/31 23:59 (UTC-7)
Community Voting: 2023/1/1 00:00 – 1/7 23:59 (UTC-7) (Any votes after this deadline will not be counted)
Evaluation and Vote Count: 2023 1/8 – 1/12
Result Announcement: 2023/1/13
Rewards will be issued after the announcement.
Submission Guidelines
1. Log in and complete your profile FIRST.
- Make sure you have linked your player ID to the account that you use to upload your artworks!
2. Click the "Upload" button at top-right of the website.
- Fill in all the necessary information there and submit your masterpieces.
- Choose "Promise to You" for "Genre"
3. If your creation gets picked by Momo, you will receive an e-mail and a notification at Fan Art Community within 7 days. All the artwork accepted will be simultaneously displayed on our website on 2023/1/1 00:00(UTC-7) for the sake of fairness. Therefore, if you've submitted your work but can't see it, it is simply because of the time setting of displaying. Please do not repeatedly submit your work. Thanks for your patience and support to us!
Submission Requirements
1. The "Promise to You" fan art contest receives drawings, cosplay works, and handmade works. Please shock the judge with your wild imagination!
2. Though the method of drawing is not limited, please do submit COMPLETE and COLORED works instead of drafts.
3. There is no limit to the photo size of your work, but make sure the file submitted is no larger than 10M. Only JPG, PNG, and GIF are accepted.
4. Edits based on screenshots or pictures from the Nikki series do not meet our requirements for artwork.
5. Your entry should be related to Nikki franchise only.
6. 1/4 update: Please note that we do not accept AI artwork. If your submission is judged or reported by another user as AI artwork, your work may not pass the screening process or may be taken down from the site. In order to prevent misjudgment, we recommend you to keep some record of your creation during the painting process, which can fully explain the original innovation of your work if necessary.
Rewards
Grand prize (1 winner): Wacom Pen Tablet + Nikki 10th Anniversary Merch Set + Pink Gem x 8000
Gold Prize (3 winners): Nikki 10th Anniversary Merch Set + Pink Gem x 8000
Silver Prize (5 winners): $50 gift card + Pink Gem x 6000
Bronze Prize (10 winners): $20 gift card + Pink Gem x 4000
Community Favorites:
- Top 1-3: 4000 pink gems
- Top 4-30: 1500 pink gems
Participation award: 500 pink gems
*To win the participation award, your work has to meet the submission requirements and thus gets shared by Momo in the community.
Important Notices
1. There is no limit on the number of the artwork you submit, but each contestant can only win one award. (according to your name and player ID)
2. The winners of grand, gold, silver, and bronze prizes will be evaluated by the staff. Community Favorites will be decided by the votes (numbers of likes) they get on the website.
3. If a contestant wins a Grand/Gold/Silver/Bronze Prize, the contestant will not be considered for Community Favorites and the award will pass on to others.
Evaluation, Voting, and Reward Process
Evaluation:
- Basic evaluation (on whether a work has fulfilled its requirements) will occur every weekend since 11/11 and will be completed before 12/31.
- If your work passes the basic evaluation, you will receive a notification and your work will be posted in the community on 1/1.
Voting:
- Voting starts from 2023/1/1 00:00 to 1/7 23:59 (UTC-7) in the Fan Art Community. All works that have passed the basic evaluation will be posted simultaneously at 1/1 00:00.
- Please vote by liking the piece of work.
- Each person has unlimited attempts to vote, but one can only vote a piece once.
- Non-gameplayers are also allowed to vote after logging into the community.
Rewards:
- Rewards will be issued after 1/13. In-game rewards (pink gems) will be sent to the in-game email box, and real products will be delivered to the winner's address.
Contest Rules
1. Please create only ORIGINAL work. Do not copy from others.
2. Do not include anything inappropriate or offensive in your work, including but not limited to contents that are anti-social, political, violent, or pornographic.
3. The work submitted must be in its initial release. Do not submit work that has already been published on other platforms.
4. Contestants must not cheat by any means and promote his/her/their artworks by inappropriate means during voting. If any contestant is found to be cheating during voting, he/she/they will be disqualified for this contest.
5. For copyrights, please refer to "Community Rules". If contestants are working as a team, please use a representative to upload the artwork and confirm that each team member has agreed to submit their work to this contest. Write down each member's name on the upload page.
6. Papergames reserves the right of final interpretation of all content submissions.
Please contact the e-mail below if you have any further questions regarding this Fan Art Contest:
snfanart@playpapergames.com